19jun(jun 19)19:0020(jun 20)01:00Practice time - 2 area's19:00 - 01:00 (20)(GMT+02:00) View in my timeHaverstraat 4, 2153 GB Nieuw-Vennep Event Organized By: Fiësta Coconut Dans & Type Muziek:Bachata,KizombaStad:Hoofddorp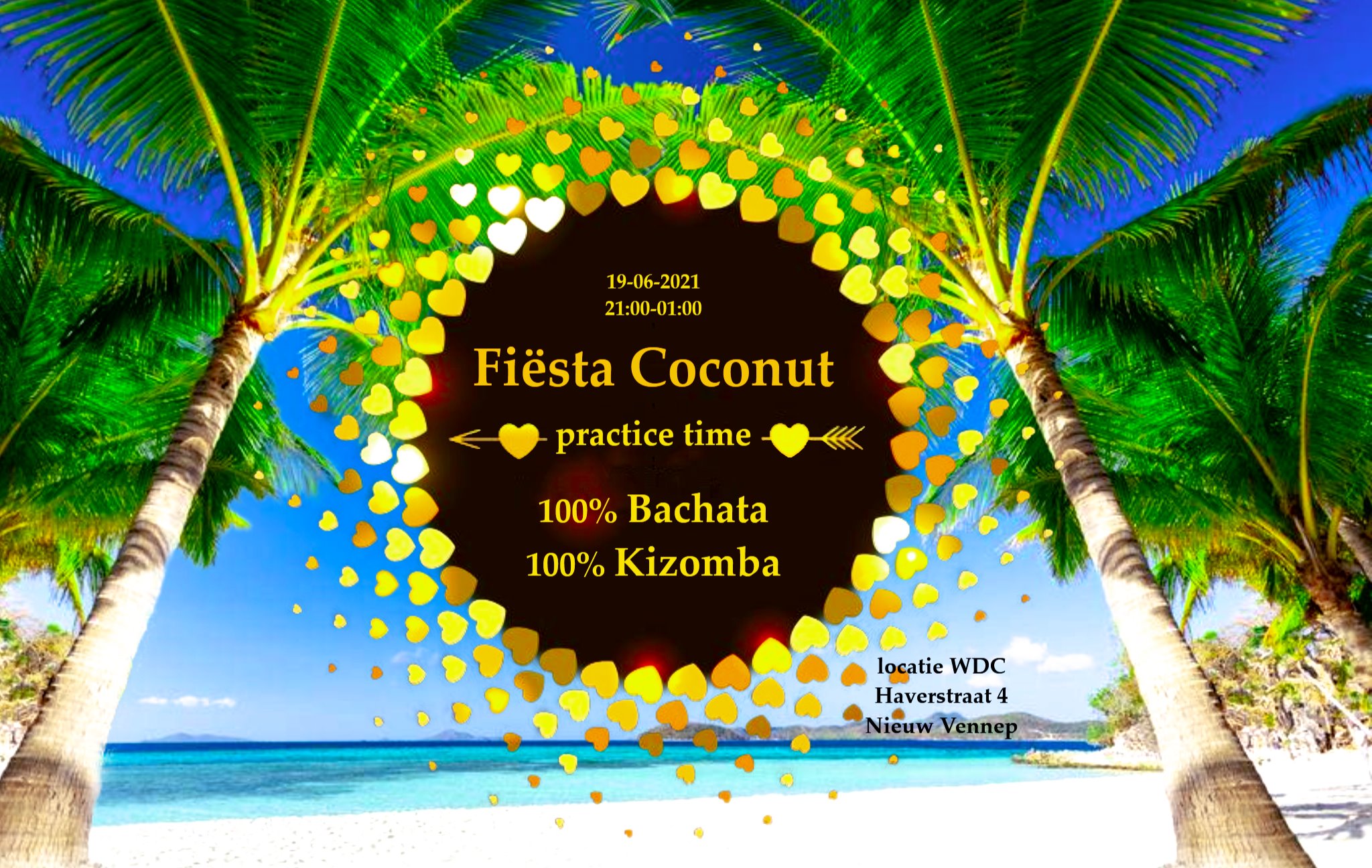 Event Details

UPDATE: Due to the lockdown and corona measures, this event is scheduled from April 23th to June 19th 2021. Your ticket remains valid.

Fiësta Coconut geeft je 2 mooie zalen, TOP DJ's, 1 soft drankje en heel veel dansplezier.
Program: 21:00 – 01:00
Area 1 – 100% Bachata with
DJ Marciano

Area 2 – 100% Kizomba with
MC-DJ On the Moon
Tickets.
– Only presale / No tickets at the door
– Ticket practice time € 15,- (inclusive 1 drink)
– Ticket last minute € 20,- (inclusive 1 drink)
!! Due of the corona rules our bar is closed. The ticket is inclusive 1 refreshment of Fiësta Coconut. You also may bring your own drinks !! It is forbidden to bring alcohol inside!!
==========================It works as follows:
– There is room for 30 dancers in each area.
– You can register by buying a ticket.
– There are seperate tickets for ladies, and for gentlemen available
– Refunds are only possible in case of cancellation by the government.==========================LOCATION: WDC, Haverstraat 4, 2153GB, Nieuw Vennep
– Location is easily accessible by public transport and car
– Free parking
– Nice room with perfect dance floor
– Clean toilets
– Permanent ventilation in accordance with the Building Decree and national guidelines.
– We comply with all hygienic regulations
– Secure wardrobe==========================>>IMPORTANT RULES CORONA<<
1. Disinfect / wash your hands upon arrival.
2. Before entering the dance floor and when leaving the dance floor, take a seat and keep 1.5 meters away.
3. When you leave the building, you go home immediately and you do not hang outside unnecessarily
4. If you have one or more of the following (mild) complaints: cold, cough, shortness of breath and / or fever (from 38 degrees Celsius), you stay at home.
more
Time

19 (Saturday) 19:00 - 20 (Sunday) 01:00(GMT+02:00) View in my time
Location

WDC

Haverstraat 4, 2153 GB Nieuw-Vennep